The White Tower is perhaps the most recognizable spot in Thessaloniki. With its distinctive cylindrical shape, its six storeys and its memory-charged history, it has become the city's trademark. When one sets eyes on the White Tower, it means that one has made one of the most fascinating journeys and is in the city of a thousand promises, Thessaloniki!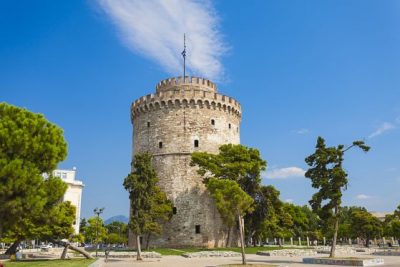 Most likely it was built during the early Ottoman period, sometime after 1530. A low, octagonal, surrounding wall and three additional towers, existing in the building's initial form, were demolished in the early 20th century. It is thought that on this outer wall stood heavy artillery which guarded the port and the coastline. It was initially named the Lion Tower, indicating the glory of the Ottoman military machine. During the 17th century it was unofficially known as the Fortress of Kalamaria. After 1826 it took the name Kanli-Kule, or Tower of Blood. Its present name conceals a great human story. A Jewish prisoner in the tower, Nathan Guidili, took it upon himself to smarten it up by painting it white. For this he won his freedom and certainly posthumous fame.
We suggest you to transfer Thessaloniki and enjoy this famous monument!