Potidea is only 65km away from Thessaloniki and is the first place you come across when you arrive to Kassandra peninsula from Thessaloniki. It's connected with Nea Moudania (located before Nea Potidea) with a long beach that spreads for kilometers on both sides of the peninsula. On the west side there are lined up luxury hotels with private beaches one after another, while on the eastern side of the long beach there are 5-6 large bars with parasols and deck chairs.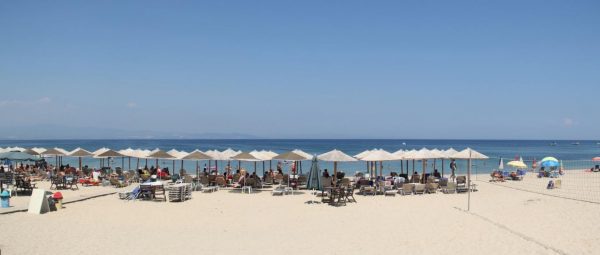 At the entrance to Nea Potidea there's a canal that connects gulf Thermaikos with Toroneon. This canal exists so ships can sail from side to side, without bypassing the whole peninsula. The canal continues to be navigable, but it was not foreseen for large vessels. It does not affect pollution, because it is not used a lot. Also, the area near the canal has plenty of stones, so that part of the beach is certainly not used. The water in the canal, by the way, is very clean and transparent.
The beach is very long and wide, sandy on the shore and in the water, with gradual depth and shoal. Given the fact that the beach is very long, there are parts of the beach with shorter shoal and the depth is reached faster. There places with stones in the water on the outskirts the beach, but they are easily be avoided, because 90% of beach is sandy. Part of the beach located in front of the channels (toward Thessaloniki) has longer shoal compared to the one in the the central part of Nea Potidea, where the most of tourists are located, though the beach in the the central part also has shoal and gradual depth.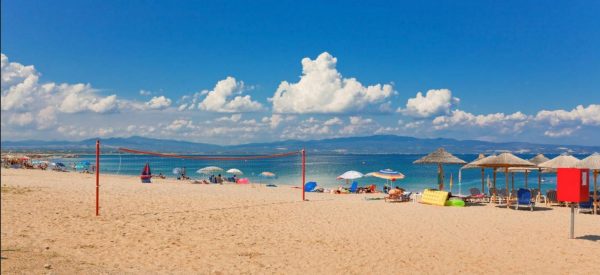 There are plenty of bars that offer chairs and umbrellas with purchased drink, but the most of the beach is available to visitors with their own equipment. The beach is large, and almost never crowded. It extends for kilometers behind the channel toward Thessaloniki.
Transfer Thessaloniki is the best way to discover this beautiful place! We are here to transfer you from Thessaloniki Airport to Nea Potidea, Halkidiki.  Your transfer, is our pleasure!