The Metéora  literally "middle of the sky", "suspended in the air" or "in the heavens above" — etymologically related to meteorology – is a formation of immense monolithic pillars and hills-like huge rounded boulders which dominate the local area. It is also associated with one of the largest and most precipitously built complexes of Eastern Orthodox monasteries in Greece, second in importance only to Mount Athos. The six monasteries are built on natural conglomerate pillars, at the northwestern edge of the Plain of Thessaly near the Pineios river and Pindus Mountains, in central Greece. Metéora is included on the UNESCO World Heritage List under criteria.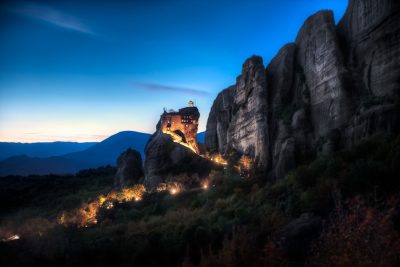 The cave of Theopetra is located 4 kilometres (2.5 mi) from Kalambaka. Its uniqueness from an archeological perspective is that in it contains, within a single site, the records of two greatly significant cultural transitions: The replacement of Neanderthals by modern humans, and the later transition from hunter-gathering to farming after the end of the last Ice Age. The cave consists of an immense 500 square metres (5,400 sq ft) rectangular chamber at the foot of a limestone hill, which rises to the northeast above the village of Theopetra, with an entrance 17 metres (56 ft) wide by 3 metres (9.8 ft) high. It lies at the foot of the Chasia mountain range, which forms the natural boundary between Thessaly and Macedonia prefectures, while the Lithaios River, a tributary of the Pineios River, flows in front of the cave. The small Lithaios River flowing literally on the doorsteps of the cave meant that cave dwellers had always easy access to fresh, clean water without the need to cover daily long distances to find it.Excavations and research and have discovered petrified diatoms, which have contributed to understanding the Palaeo-climate and climate changes. Radiocarbon dating evidences human presence dating back 50,000 years.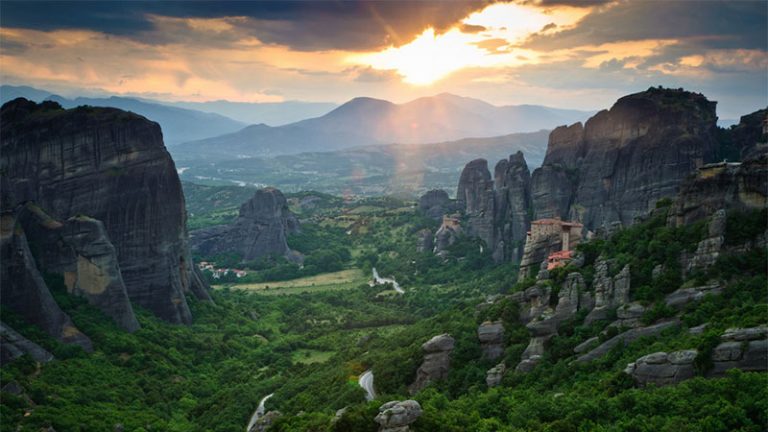 At their peak in the sixteenth century there were 24 monasteries at Metéora in Greece. They were created to serve monks and nuns following the teachings of the Eastern Orthodox Church.  Today there are six still functioning, while the remainder are in largely in ruin. Most of these are perched on high cliffs, now accessible by staircases cut into the rock formations. Of the six functioning monasteries, the Holy Monastery of St. Stephen and the Holy Monastery of Roussanou are inhabited by nuns while the remainder are inhabited by monks.
Transfer Thessaloniki can travel you in these beautiful and magical routes! Your transfer is our pleasure!