Metamorfosi is a beautiful –green-tourist village, in the beginning of Sithonia, built on the sea, with a city plan. The habitants of Metamorfosi are refugees from the Near East. They are very hospitable, willing to offer their precious services to local and foreign tourists.
As a tourist village is probably the most beautiful village of North Greece. It is built on a green slope with pinewoods, by the sea. Its golden beaches, the blue and clean as a crystal sea, the lacy beaches, made it very early popular not only in Greece, but in Europe too. The right orientation is the one that makes Metamorfosi to have the best climate of Greece (temperate), that is a fresh summer and a mild winter, with no humidity at all, a very rare qualification for those who are aware of it. Besides, the Ministry of Education in 1950 chose Metamorfosi out of all the villages of North Greece to create the first camp, which stills operate.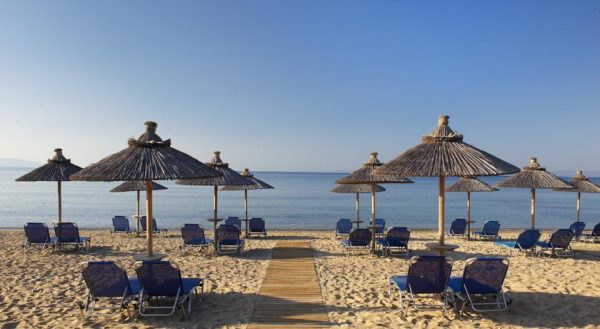 Metamorphosis is located at the beginning of Sithonia, 95 km from Thessaloniki. It lies among thick pine forests, so thanks to its microclimate, the place is known as the air spa of Sithonia. Perfect combination of pine trees and sea air will completely recover your respiratory system. There is a park, ideal for strolls since it is the core of this beautifu place. The park is surrounded by taverns, cafes, several well-supplied markets, shops and children playground.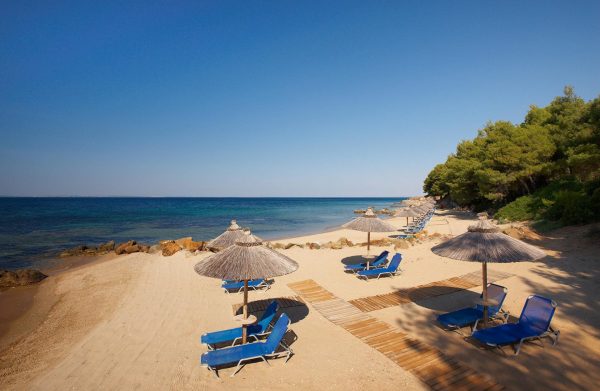 Metamorphosis has diverse beaches, ranging from big-pebble and sandy-pebbly, to stone ones. Sunshine makes enjoyment on the beach possible until late afternoon hours. The name itself "promises" some kind of transformation, but only if guests like to vacate without summer buzz, nervousness, rush and no night life.

Transfer Thessaloniki is the best way to discover this beautiful place! We are here to transfer you from Thessaloniki Airport to Metamorfosi, Halkidiki.  Your transfer, is our pleasure!