The Sithonia Peninsula in Halkidiki Greece is the ideal vacation spot for those who want to spend their time on superb beaches, soaking up the sun and swimming in the crystal-clear sea.
The famous beach of Kavourotripes in Sithonia is well hidden behind a pine forest. On the eastern side of the peninsula, about 20 km from the village of Vourvourou and 5 km after camping Armenistis the paved road crosses a dense pine forest.
Kavourotripes goes by many names, such as Orange beach or Portocali (which means orange). Kavourotripes means little crab holes and that perfectly explains this part Sithonia's coastline.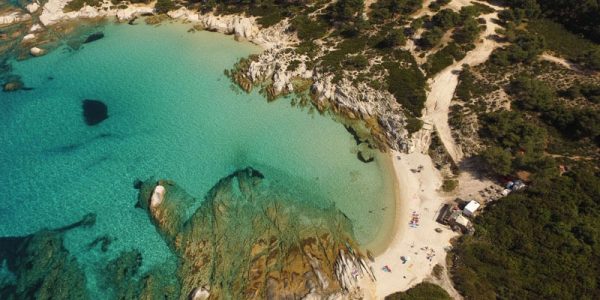 This relief landscape of unparallel beauty looks like an open-air market of sculpture exhibition which in conjunction with the amazing turquoise waters and the view to Mount Athos compensates the visitor who has been afflicted through the bushes and the rocks in order to find these beaches.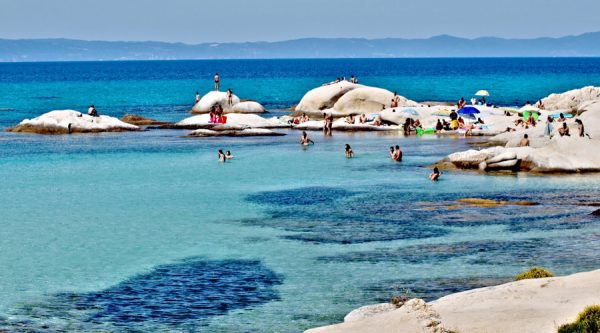 As the landscape has nothing to envy to exotic destinations seeing the white sandy beaches and the edges encircled by rocks and penetrated by green-blue clear waters of Sithonia, while touches of green environment recreates a tropical scenery.
The main beach is organized by a beach bar and is overcrowded with sun-beds and umbrellas.People keep crowding in until the cliffs and rocks around have bodies sunbathing in almost every crevice. If you are unfortunate to find a place there are other beaches further up the coast where you may find space to relax. The last couple of years have seen more food stands being set up for the needs of the crowds.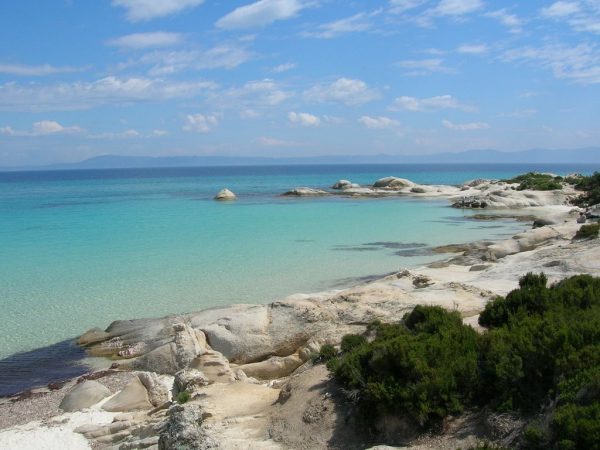 Transfer Thessaloniki is the best way to discover this beautiful, exotic beach!We are here to transfer you from Thessaloniki Airport to Halkidiki. Your transfer is our pleasure !!