According to the founder's inscription above the west entrance, the church was built in 1028 by the protospatharios Christopher, katepano of Longobardia, and his wife, son, and two daughters. The inscription reads: This once profane place is dedicated as an eminent church to the Mother of God by Christopher, the most illustrious royal protospatharios and governor of Lagouvardia, and his wife Maria, and their children Nicephorus, Anna, and Catacale, in the month of September, indiction XII, in the year 6537. (The Byzantine Calendar year 6537 Anno Mundi is equivalent to the year 1028 Anno Domini).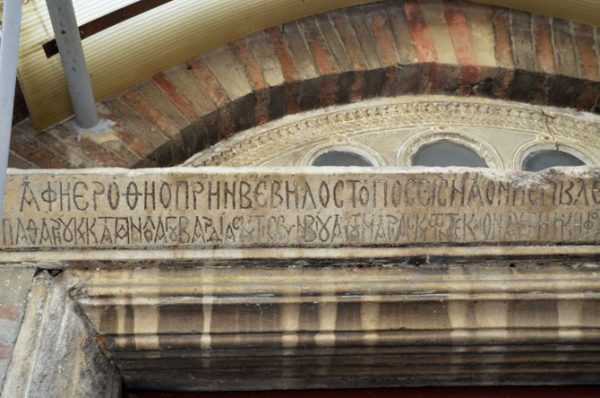 The ground plan is that of a classic "cross-in-square-form" typical of Macedonian-period architecture, with four columns and three domes, one central and two over the narthex. The entire building is built of bricks, which gave it the popular nickname "Red Church". The exterior is enlivened with a variety of arches and pilasters, elements which can be traced to Constantinopolitan influence. The use of arches with several setbacks gives the building a "sculpted" appearance. A marble cornice runs around the whole church, giving the building distinctive upper and lower sections. The lower section is more spare, while the upper section is decoratively distinguished by half-columns between arches, and saw-tooth courses where the wall meets the roof.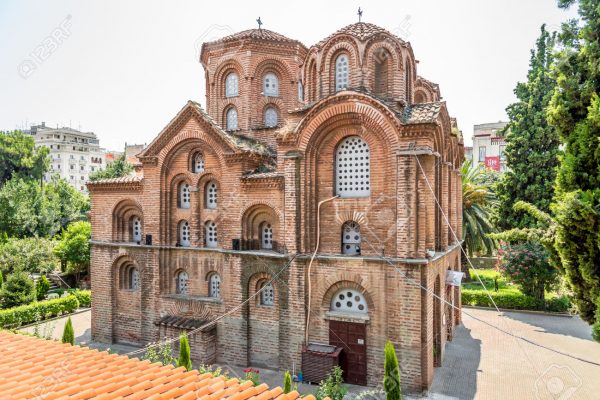 The walls were originally covered with paintings, but the majority of the paintings have fallen down, and few of the remaining paintings are in good condition. The paintings are from the time the church was built, except a few from the 14th century whose remnants can be viewed on the west wall. According to Sharon Gerstel, "The church of Panagia ton Chalkeon … preserves one of the earliest multi-register sanctuary programs in Macedonia".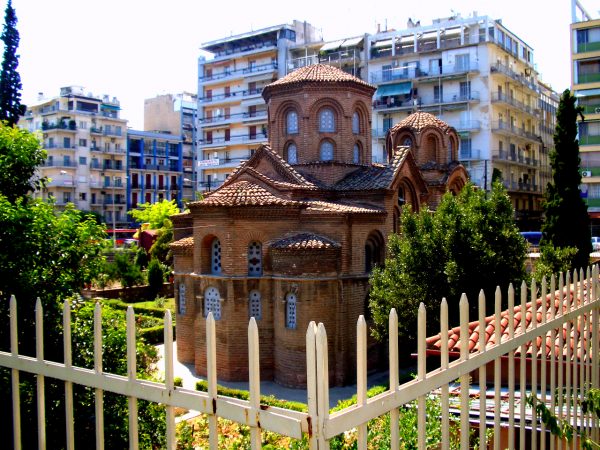 In the conch of the apse stands the Virgin Orant flanked by two archangels. Two registers below, in the bottom register of the sanctuary, are four half-length depictions of "anargyroi," or "unmercenaries": healers who refused payment for their healing services. According to Gerstel, the presence of non-episcopal figures in the bema dates the iconographical program to "a period when a wider variety of saints could be located in the sanctuary". With the conquest of the city in 1430 by the Ottoman Turks, the church was turned into a mosque, named Kazancilar Camii ("Mosque of the Cauldron-Merchants"). It served as a mosque until the end of the Ottoman occupation in 1912. The building underwent a restoration in 1934 following the Chalkidiki earthquakes of 1932.
Transfer Thessaloniki is the best way to discover this beautiful church! We are here to transfer you from Thessaloniki Airport to Thessaloniki city center.  Your transfer, is our pleasure!