Although Thessaloniki is the second biggest city in Greece with 2300 years of history and with more than one million habitats, it is considered to be the culinary capital of Greece! To be totally honest, Greece has a really interesting plurality concerning its cuisine. From Athens with the aroma of international influences and the Michelin stars restos (Funky gourmet, Spondi, Botrini's, Varoulko and Hytra) to the traditional cuisine of Crete based on the Mediterranean diet. From the cosmopolitan party island of Mykonos with all the new trends and fashions in food to the traditional cuisine of each and every smaller greek island, developed separately due to isolation by the sea. With all those choices, somebody could ask how come Thessaloniki can be considered as a culinary capital? To answer this question what we have to do is to take a look into Thessaloniki's multicultural history. Greeks, Romans, Byzantines, Turks, French, and Hebrews are only a few of the different cultures that left their heritage in Thessaloniki's gastronomy and culture in general. Even though Thessaloniki also got caught up in the trap of "touristy" Greek cuisine (with mousaka, souvlaki, greek salad, and tzatziki) during the '80s, '90s and early '00s, the "crisis" was overcome when young, innovative people with a great love of food found solutions through combination of personal hard work and fantasy. This has lifted the quality of Thessaloniki's restaurant scene a lot over the last years. One gastronomic tour during your stay will convince even the most pretentious ones.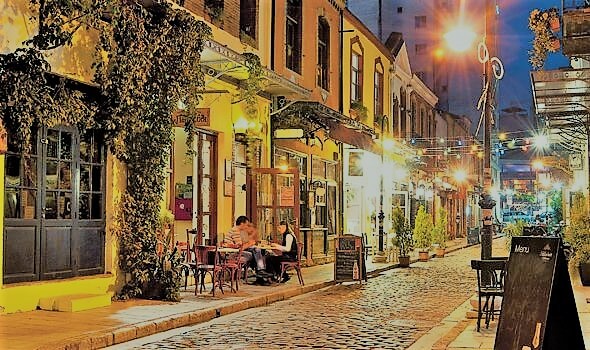 Once you arrive in Thessaloniki, you become familiar with all the different colors and smells around. More or less most of the city center roads and paths lead to different food spots, where you will have the chance to taste different dishes or types of food from all over the world. From typical street food on the go to gourmet restaurants Thessaloniki is here to impress and satisfy all different tastes and moods. Make a fresh start early in the morning with the typical "koulouri Thessalonikis" and a cup of coffee, continue your day with a unique brunch based in eggs and for lunch choose a traditional Greek tavern in Ano Poli, while enjoying the great view of the city. As day goes by don't forget to taste some of the most famous sweets of the city like "Trigona Panoramatos" (small triangles of pastry sheet filled with delicious cream just the moment you order it) and your very special personalized profiterole, in which you have to choose the filling and the topping according to your preferences. Lastly and just a few moments before the sunset choose a gourmet restaurant by the sea on the east side of the city, and you will never regret it! Thessaloniki has a top-rated cuisine amongst Greeks, so if you are fans of the Greek cuisine in general, you have just reached its palace.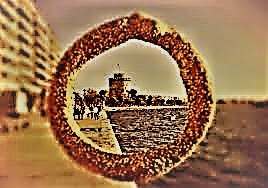 The mixture of the cuisines of Asia Minor, the cuisines of Pontus, ancient Macedonia, Thrace, Italy and all of the many cultures and migrants that have lived here throughout this city's many years have upgraded the cuisine of Thessaloniki in a multicultural one. Thessaloniki has always been cosmopolitan, and you will soon discover it, plus there is an almost 100% guarantee of eating amazingly, even in the smallest or dodgiest of taverns. Feel free and open to all the choices you have and this will make your visit to this city unforgettable!
Transfer Thessaloniki is the best way to discover this beautiful city! We are here to offer you more than a transfer from Thessaloniki Airport to each and every spot of Thessaloniki city in order to discover it.  Your transfer is our pleasure!